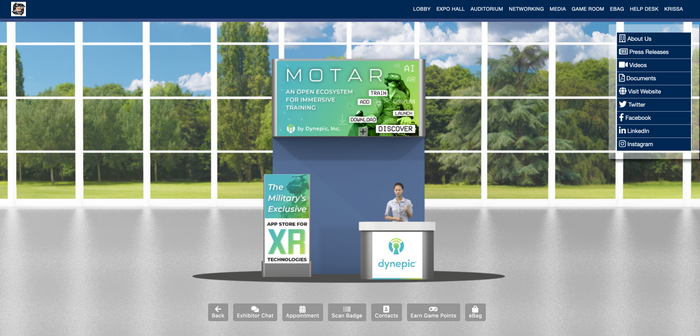 As the DoD continues to test the efficacy of XR products for training, there are challenges that remain for secure, efficient, and effective implementation. These challenges include providing 1) one place for discovery and distribution of XR products, 2) a streamlined way to use different XR products in one training course based on which is optimal for the KSAs being taught, and 3) a secure way to capture, analyze, view, and store the data from disparate products. Dynepic, Inc., an innovative tech company founded by service-disabled, female veteran, is powering an open, secure ecosystem to solve these challenges and revolutionize the future of immersive training.
Dynepic's DX Platform, white-labeled as MOTAR (Member. Operations. Training. Analytics. Reports) for the USAF, provides a secure infrastructure, open APIs and SDKs optimized for XR products, a marketplace for discovery and distribution of third-party XR products, and a learning records store (LRS) and learning management system (LMS) that pulls student performance data from third-party XR products into real-time, consolidated instructor dashboards. It is the only LMS on the market that is optimized for third-party XR training applications and platforms. Dynepic's MOTAR ecosystem currently includes over 20 companies with XR products including AR/VR/MR applications, platforms, AI-based virtual instructors, self-authoring tools, and peripherals (e.g. haptic gloves and full-motion sleds).
After winning the AFWERX Mixed Reality Challenge in 2019, the DX Platform was white labeled as MOTAR for the USAF, and has subsequently been awarded multiple SBIR Phase 1 and 2 contracts, as well as a multi-year Phase 3 contract with the Air Education Training Command (AETC). Under this contract, Dynepic has supported the Maintenance Training Next Program, successfully powering an entire Crew Chief Fundamentals Course with a single login and consolidated dashboards, supporting of training content including AR and VR applications from five different companies, along with multimedia content such as 360 videos, documents, and assessments. In 2020, Dynepic won the AFWERX Recruiting, Reimagined Challenge to support both Air Force and Space Force recruiting by adding a Recruiting element to MOTAR. Dynepic also recently won the AFWERX Accelerating Pilots to Combat Ready Aviators Challenge to support the future of aircrew training by adding 15 different cutting edge XR products into the MOTAR marketplace and ecosystem. MOTAR has also been selected by the Air Force Life Cycle Management Center (AFLCMC) Simulators Division as the digital infrastructure for the new Lightweight Simulators Ecosystem (LSE), home of the Simulators Pitch Day winning products.
During vIITSEC, Dynepic is looking forward to providing demonstrations of MOTAR, discussing how it is already supporting the USAF and future plans, and exploring how MOTAR can support the Army, Navy, and USMC as well! Dynepic is also always looking for cutting edge XR technologies to bring into the ecosystem as well.
*****
About Dynepic
Launched in 2014, Dynepic, Inc. is woman and service-disabled veteran founded tech company based out of Huntington Beach, CA.
www.dynepic.com